Mass and Daily Prayer
"Why I LOVE St. Joe—In times of need, knowing that an entire classroom, or even the entire school may be praying for a common cause, situation, or person."
-A St. Joe Parent
As Christian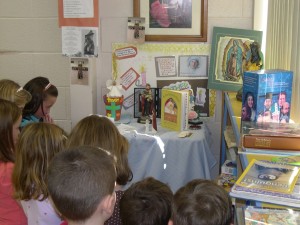 s and as Catholics, we rely on God for His guidance and strength as we attempt to live out our Christian faith. St. Joseph students, therefore, begin and end each day in a short period of prayer.
Students have an opportunity to attend Mass weekly. They participate as lectors, readers of intentions, and gift bearers. All-school Masses for grades K-6 are planned for First Fridays, holy days, and other special occasions. Parents, as well as all parishioners, are welcome to attend school Masses.
Monthly, each classroom spends time with the Blessed Sacrament during the parish's First Friday Eucharistic Adoration. Throughout the year, students also take part in seasonal prayer celebrations such as Stations of the Cross, May Crowning, and praying the Rosary.