Service Projects
"When my child goes to school, he serves God and he serves others. St. Joseph children's sense of 'self' is quickly enhanced by their sense of community and service." -A St. Joe Parent
Outreach Projects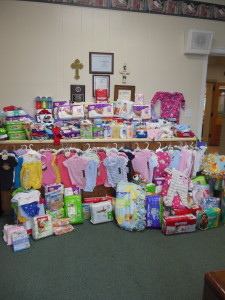 Throughout the school year individual classrooms, as well as the student body as a whole, participate in a number of outreach projects such as:
Shoeboxes for Appalachia at Christmas time
Pop can drives for various charities throughout the year
Coaches vs. Cancer fundraiser
Baby Blankets made for the Baby Pantry
Can food drive at Thanksgiving for the food bank
Baby items donated for the CAN Council – donated a truck load of new baby items!
Lenten Money for various charities
Letters for Shut ins
Letters for soldiers in Afghanistan and supplies
Collected supplies for children in Africa

Blue Jean/Cupcake Day
Monthly students are allowed a day where they can attend school out of the dress code. This coincides with a treat sale during their lunch period. The parents of children in a particular classroom are notified when it is their turn to furnish treats that are sold to the students for 25 cents. The money that is raised is donated to a charity of the classroom's choosing.
Service Organizations
Additionally our students have the opportunity to become involved in several service organizations which help them to develop an early appreciation for volunteerism.
Service Squad: Students in grades four, five and six are encouraged to volunteer for a variety of responsibilities. Among these are: assisting teachers after school, helping in the lunch room, working in the computer lab, and helping to deliver messages from the office.
Safety Patrol: Non-bus students in the upper grades are required to participate in the Safety Patrol. They have the important responsibility of ensuring the safety of other boys and girls as they cross streets to and from school.